PlanMagic Business Review
PlanMagic Business - Business Plan Software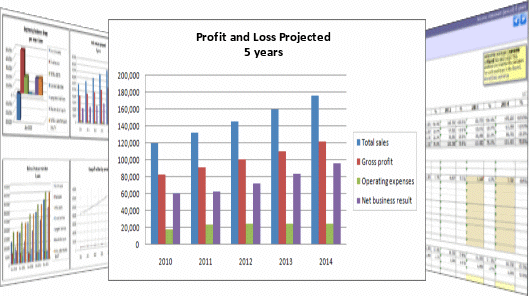 PlanMagic Business offers an easy to use well written business plan templates in a popular word processor format, a fully automated close-to-reality financial projection application in MS Excel, an easy to use presentation template, and a comprehensive business planning guide. The Advanced Edition (AE) includes more state-of-the-art financial analysis tools as well as a Web marketing guide. All parts of the program can be easily navigated to from the main PlanMagic menu window.

With the PlanMagic programs you can:
plan any business like a professional
plan to finance any business start-up or expansion
check the feasibility of your plans
surprise any potential investor with a thorough and complete presentation
analyze the financial situation with state-of-the-art analysis tools
stay up-to-date with the real financial situation at all times
run unlimited what-if and other analyses for 5 years without loss of data
---
BUSINESS PLAN TEMPLATES
The PlanMagic Business program includes products, services and one additional business plan template of your choice. You can also purchase some additional business plan templates. Each business plan template is fully geared towards the type of business it is to be used for. PlanMagic offers many pre-written plan templates for a variety of business types such as advertising agency, bank, call center, casino, cleaning service, clinic generic, consultant, day care center, debt collection agency, dental clinic, employment agency, farm, insurance agency, internet service provider (ISP), leasing company, manufacturer, photo studio, real estate agent, record company, school, and veterinary clinic. Easily add project plans, phasing diagrams, floor plans, specific plans and more as is needed, or insert financial data from the financial application. Other business plan templates are available with some of the other PlanMagic programs.
BUSINESS PLAN FINANCIALS
Equally important to a complete business plan are the financial projections. The more complete they are, the more chance you will have of getting a potential investor interested. Though they may not check all the tiny details, they will immediately see that all the important aspects of financially planning a start-up or expansion, have been considered and are actually incorporated in the financial plan. This level of detail is unique to the PlanMagic Business Plan software.
| | | |
| --- | --- | --- |
| | | |
| | | |
---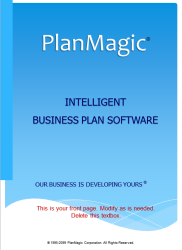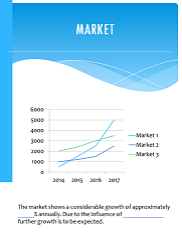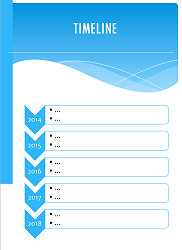 PRESENTATION TEMPLATES
The program also includes a presentation template in Powerpoint, and an investor pitch template also in Powerpoint format. These two templates alone can save you lots of time, as well as provide you with the tools you need to make that important pitch.
KEY ADVANTAGES
Offers PlanMagic's Smart Entry System (SES)™ to minimize and significantly speed up data entry.
Validation checks for data consistency.
Development can start up to 5 years prior to operations.
Fiscal year and forecasts can start in any month.
Forecasts include months, quarters, and years.
Up to 10 years can be forecast in one financial workbook, with no limit if multiple workbooks are used.
Views are collapsible for clear summaries.
Costs can be split between fixed and variable cost for contribution, break-even and similar analyses.
Projected balance sheets that are always balanced.
More than 40 charts illustrate trends in expenses, sales, revenues, cash flow and more.
Easily import anything into the plan template.
In the standard edition you will find:
Assumptions (General, form, financial, inventory, loans, tax, royalties on revenues, franchise, product mix, tax, dividend, and more)
Development planning (AE only), 5 years prior and 5 years of planning with automated development timeline)
Investment budget (unlimited number of new/existing assets, depreciation schedule using SLN, DB, DDB or SYD)
Funding (shareholders' capital, unlimited number of new/existing loans, deferred loans, flexible loans, amortization - 5 years)
Beginning balance sheet (with/without historic data)
Personnel wizard - add persons, groups or departments (max. 10), monthly and quarterly (3 years), annual (5 years)
Personnel assumptions - payroll burden with variation for tax on wage base limit , hourly/overtime rates, bonuses payment schedule
Personnel plan monthly & quarterly (3 years) - with headcount, payroll, overtime, bonuses and payroll burden summary
Personnel plan annual (5 years)
Product details & Cost of Goods with minimum stock level entry (3 years) - Add/Edit/Remove product lines and products using the products wizard to add up to 10 product lines (or market areas) and unlimited products per product line.
Sales projections monthly & quarterly (3 years) - enter sales by units or amounts, or in bulk per product line, rebates & allowances
Sales projections annual (5 years)
Income statement (Profit & Loss) monthly & quarterly (3 years) - with unlimited expense rows, automated discounts & returns, bad debts and losses & thefts.
Income statement (Profit & Loss) annual (5 years) - with EBITDA and earnings per share details for companies
Cash flow projection monthly & quarterly (3 years) - direct method used
Cash flow projection annual (5 years)
Balance sheet projection monthly (3 years)
Balance sheet projection annual (5 years) - with no. of shares issued and net asset value per share details
Notes to the financial statements - with automated data from the projections
Tax account - sales tax, income tax
Inventory account (5 years)
And for the business analysis:
Historic ratios (3 years)
Projected ratios (5 years) - including 20 ratios, break-even
Industry standards comparison (5 years)
Loan capacity ratios (5 years)
Financial summary with CAGR (5 years)
Annual dynamic What-If analysis (5 years)
Best/Worst case scenarios (Sensitivity analysis) (5 years)
Comparison analysis - personnel, sales, advertising, income, cash flow, balance sheet (5 years)
Timeline with a task wizard (3 years) - entries are as easy as 1-2-3, with project cost, start date and end date
Line of Credit (Overdraft) scenario
If you get the Advanced Edition (AE) you can enjoy even more features, financial analyses and reports that surpass even the most expensive accounting programs. Some of these are: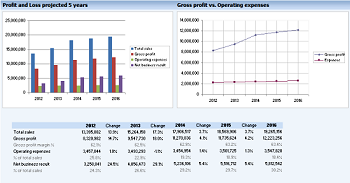 Development planning (up to 4 phases, 5 years prior and 5 years of planning with automated development timeline)
Other investments (short term, bonds and securities)
Advertising & promotion plan detailed (3 years), annual (5 years)
Annual ROA / ROE / SGR dynamic analysis tree (5 years)
Projected ratios (5 years) - including 26 ratios, IRR/NPV, SGR, OCF, FCF, Z-score for business valuation
Detailed break-even analysis per product line with break-even charts per product line
Annual summary matrix (balanced scorecard) - beginning balance, income statement, cash flow, ending balance (5 years)
Annual summarized projections (income statement, cash flow, balance sheet, ratios) up to 10 years
Revenue analysis per product line (5 years)
Executive dashboard
Exchange rate multiplier to easily convert values into another currency
In addition many tools are included that may help you to plan even better. In some of the business plan templates available, such as car rental an additional tool may be included to perform certain business specific sales estimates.
Equipment, office, lunch room, machinery list worksheets
Services estimation worksheets
Personal financial statement worksheet
Partnership accounts worksheet
We also have to include that PlanMagic Corporation is one of the few companies that offer many specific programs for specific business and organization types. The reason being that even though PlanMagic Business is one of the best (if not the best) business planner, it cannot cater to more specific financial needs. For this purpose PlanMagic offers a complete product line of dedicated business plan programs:
---
CONCLUSION

PlanMagic Business is ideal for any type of product, service or manufacturing based business. The business specific business plan templates are complete and no other program offers this kind of customization. The financial planning application is one-of-a-kind and offers a numerous number of unique features (including the best navigation we have ever seen in an Excel workbook!) that can only be found in the PlanMagic software range. The Smart Entry System mentioned is truly a work of art and offers unparalleled speed of entry. From the many wizards to the export options it is a remarkable program. We have reviewed some of the other PlanMagic programs as well, and though it is beyond the scope of this review, we do wish to mention that the ones we tested were equally valuable and one-of-a-kind. Needless to say, but we say it anyway, if there is a product line that totally deserves our SimplytheBest Gold Award, it's the Business Plan Software that PlanMagic offers.
For more information, online demos or to order:
Business Plan Software Comparison
Sell on the SimplytheBest Marketplace
With a SimplytheBest Classified Ad, you can let the world know what you have to offer!
Start Your Ad